Winter Camping 2020
I continued what is becoming an annual tradition by heading into George H. Crosby - Manitou State Park for a 3 night camping trip on February 4, 2020.
On my way to the park (on Feb. 3), I stopped briefly at Gooseberry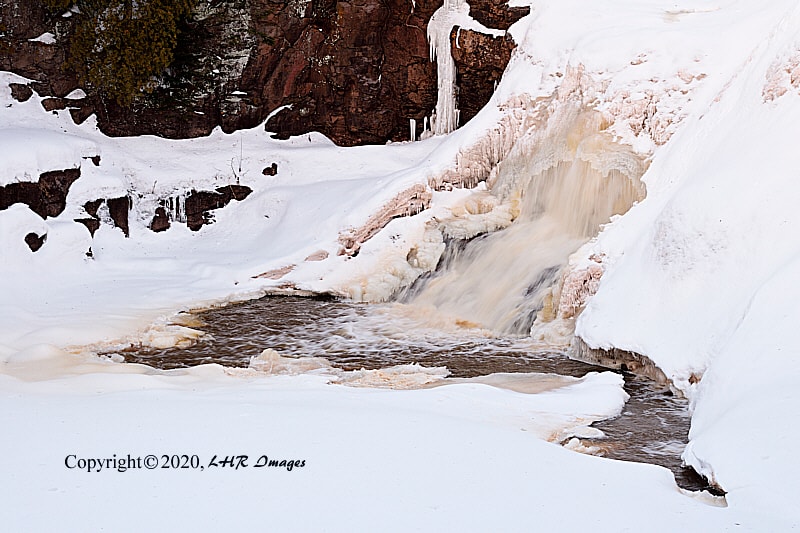 Falls State Park where I made a few photos of the mostly frozen falls. I was glad I had my micro spikes to help me on the ice covered trails. More impressive than the photos were the videos I took which showed the water flowing behind the ice.
After Gooseberry, the next stop was the overlook at Split Rock Lighthouse State Park.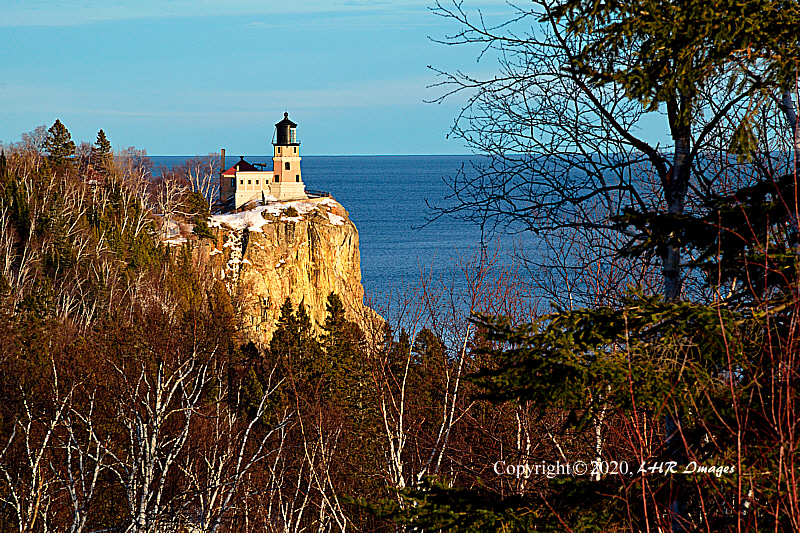 As usual, this landmark did not disappoint and it was late enough in the afternoon for the sun to cast a golden glow on the lighthouse and the bluff it is built on.
I spent the night of the 3rd at the Maple Grove motel in Finland, MN. This small, 4 room motel was quite comfortable and the owners were very friendly and accommodating. They even loaned me an ice auger for the camping trip!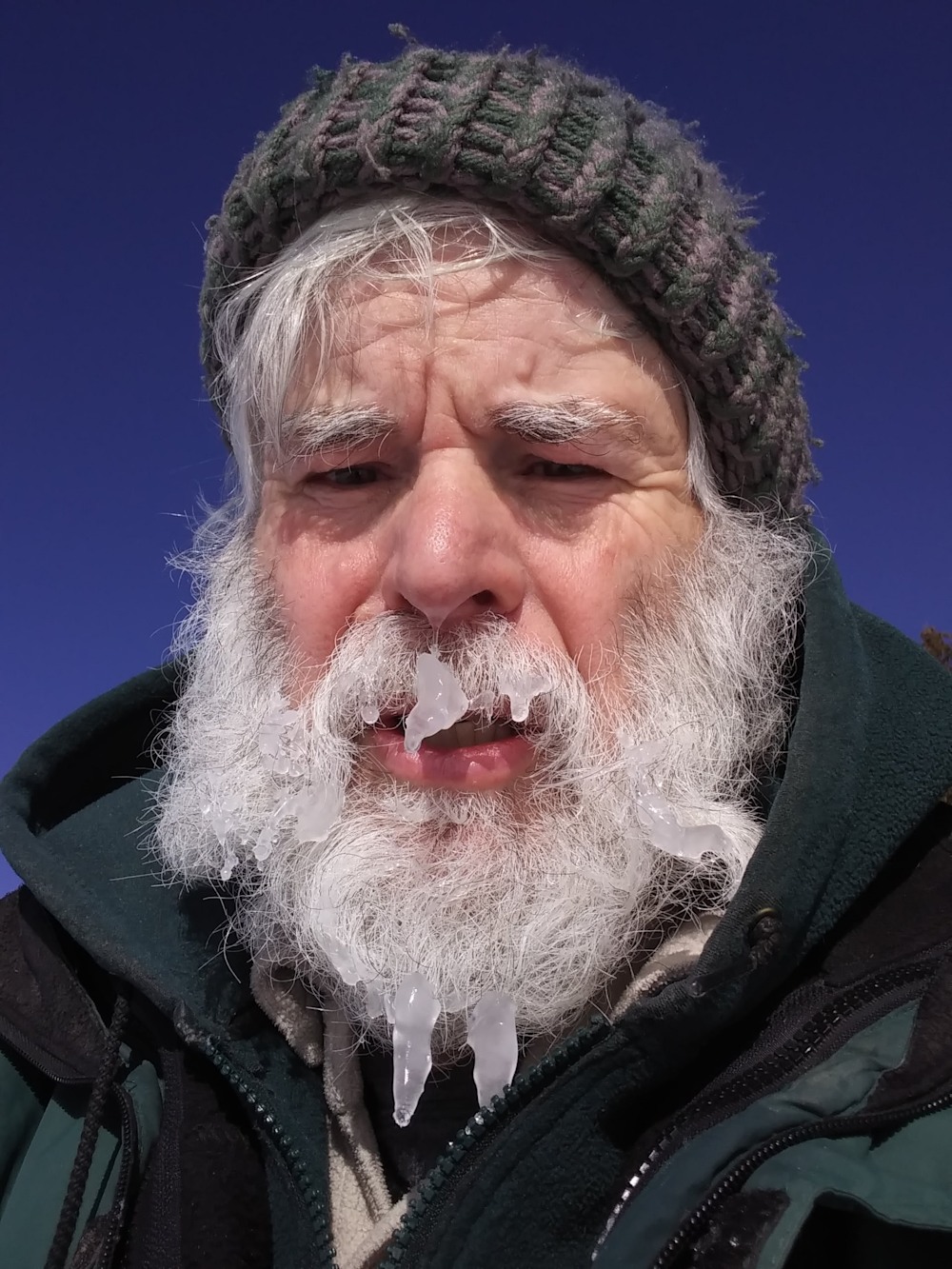 Arising early on the 4th, I checked out of the motel and headed for the park. Under blue bird skies I began hauling my sled but things did not go smoothly. I wasn't very far along the trail when the waist pack I was using as a harness broke. I quickly fashioned a make shift harness from rope and trudged on. The snow was deep but a good trail had been packed by previous visitors. Between my exertion and the crisp, cold air, icicles began forming on my beard. When I stopped to snack on my apple, I could hardly open my mouth! Moving along again, I had a second problem when the bolt attaching my harness to the sled poles came apart. I was not able to find the bolt or the nut and washer which were supposed to hold it in place.
Finally making it to my site, I began setting up camp, gathering firewood and drilling a hole in the ice so I could collect water. It was soon supper time and I looked for my cooking pot. That's when I realized that I'd forgotten to pack it! Things definitely weren't going my way. Thinking it over, I decided to trudge back to the car and head back to nearby Finland. There's a general store there where I was sure I could find a cooking pot. Sure enough, I found a suitable coffee pot. Since it was already supper time, I decided to head to the nearby Four Seasons Supper Club & Bar where I had a great supper of beef tips on noodles. It was, of course, dark by the time I got back to the park but the trip back to camp was enjoyable. I broke in my new coffee pot by boiling water for my bottles that I put in my sleeping bag to keep my feet warm overnight. The temperatures dipped a bit below 0oF and I woke up chilly a few times but, overall, had a good night's sleep.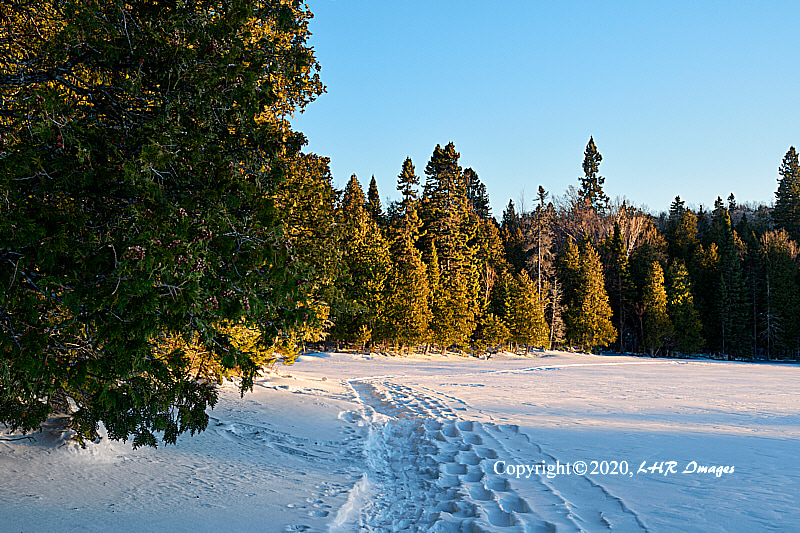 The 5th was sunny again. I hadn't been able to find enough firewood the previous day so I searched for more and then processed it all. Between that and doing other camp chores, I didn't have time for much else. In no time at all, the setting sun was lighting up the cedars along the lake shore. I had supper without incident and spent a nice evening around a small campfire. It was warmer that night and I slept comfortably, only waking up a couple of times.
It was sunny once again the next morning. With no major chores left to do, I strapped on my snowshoes and camera pack and headed for Manitou Falls.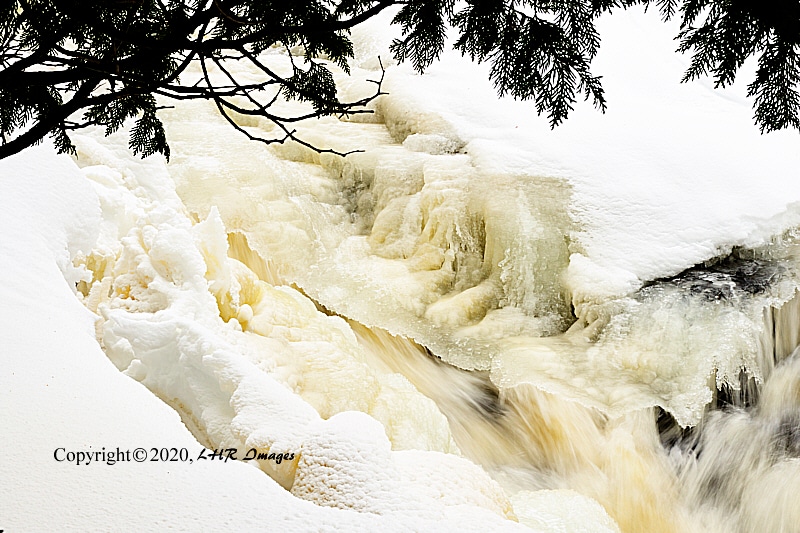 As I hiked along, clouds started building in. By the time I reached the falls, it was mostly overcast but the clouds were not thick so the light was almost perfect! I took several photos of the partially frozen waterfall before heading back towards camp. Along the way, a few flurries swirled in the air. Later, after supper, it began to snow in earnest. I moved most of my equipment into the tent vestibule to keep it from getting buried in the snow and then settled down for a very comfortable night.
I awoke to a winter wonderland but there wasn't time for photography since I had to break camp and head back home. I did get plenty of video footage on my way back to the car however. It was already 2:pm when I got back to Finland and about 7pm when I got home.
Overall, a very good trip. While I didn't make any photos worth adding to my portfolio, I will be adding a video about the trip to my YouTube Channel. When it's available, I'll come back here and update the link.